Transcendental Lounge and Kirtan
Mindful Radio Show on WDRT 91.9 fm Viroqua, www.wdrt.org: ARCHIVE HERE LISTEN AND ENJOY!
Performing Original Compositions to Ancient Songs aka Kirtan Playlist Listen Here — Transcendental Lounge Playlist Listen Here
Live music for yoga classes, dinner music, outdoor venues, coffee houses, house concerts, festivals.
Composing and recordings Listen Here
Soundtracks Click Here to Contact Us if you are looking for music for your videos
Commission your new music Click Here to Contact Us
Accompanying Traveling Musicians — We can provide Drum, Bass, Piano, Back Up Vocals and/or Harmonium
Lotus Head has created and embodies the "Transcendental Lounge" genre. Their highly unique music utilizes esoteric rhythms and mystical themes to assist the listener into a high vibrational state of mind. They enjoy playing benefits, festivals, private and public shows!
Kirtan is a genre of music that embodies the essence of yoga in harmonies, melodies and vibrations. One of the best parts of kirtan is the audience participation. The audience becomes part of the band and brings the rich vibration of oneness as everyone sings together. Lotus Head embraces kirtan as their original backbone. The two main members of Lotus Head have been playing kirtan together since they met in February 2015.
Past and Present Experiences
Mindflow Radio Show — Live Music and Mindful Conversation (recorded in studio, monthly)
· Sunday Sadhana WDRT Viroqua 91.9 FM wdrt.org -- 8/2015-12/18

· Mind Flow Radio WDRT Viroqua 91.9 FM wdrt.org -- 1/19-Present
Lotus Head — Kirtan Music
· Tapestry Yoga Studio, Viroqua, WI -- Many Times J

· Tammy Z's Yoga Studio, Lacrosse, WI -- 11/2017, 4/2019

· SuperCharge! Foods Madison, WI -- 8/2017, 5/2018

· Nokomis Yoga Studio, Minneapolis, MN -- 4/2016

· Eckhart Park Viroqua, WI -- 8/2017

· The Ark, Viroqua, WI -- 6/2017

· Yogatan, Roatan, Honduras -- 4/2017

· Kinstone Circle, Fountain City, WI -- 6/2019
Lotus Head — Transcendental Lounge Music
The Ark Center for the Arts, Viroqua, WI — 2019

Eckhart Park Annual Harvest Parade, after-party, Viroqua, WI — 2017, 2018, 2019

Madison Drum Circle, outdoor performance, Madison, WI – 2018

Gays Mills Coop, monthly dinner events, Gays Mills, WI —2017
Accompanying Traveling and Local Musicians (hand drum, kartahls, backup vocals)
Temple of Light – 2017-2018

Aveen – 2018

Kirtan Path – 2018·

Thunderhawk Tribe – 2017

Sakshi Zion – 2017

Michael Dunn (weekly) — spring/summer 2016

Lauren Hunt (monthly) – 2015-2016
Lotus Head — Soundtracks
All IMI Videos, WDRT Mind Flow Radio Show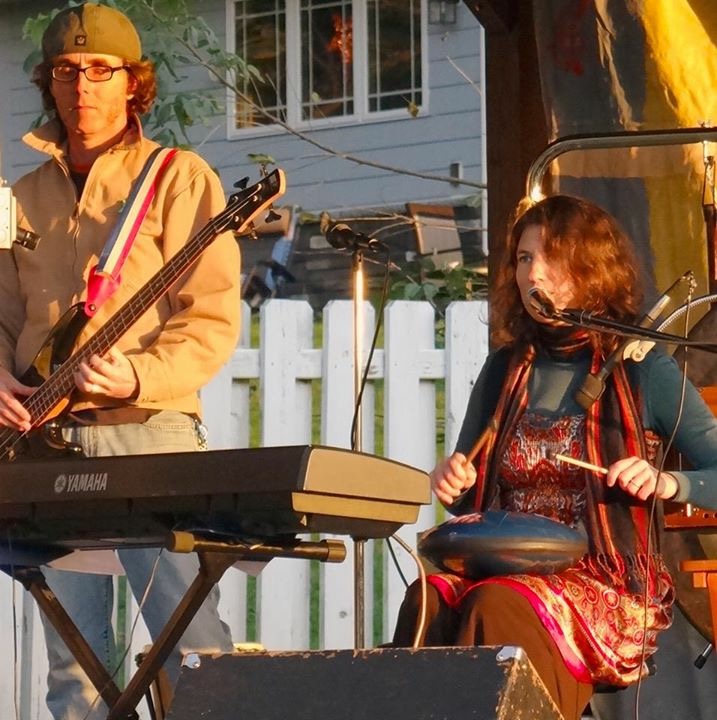 We have collaborated musically with other kirtan bands, as well as performed at yoga studios, and led retreats including yoga, tai chi with live music. We can do a variety of our skills combined or be focused on one skill to share with your community. Lotus Head can put together a mini festival for your next event! Whether that be a team building day for your coworkers, a birthday party or a celebration of the seasons, Lotus Head can deliver a meaningful event!
Here is an example of a 3 hour Mini Festival:
Gong Bath

Yoga lead by Jai Lynn — Gentle Yoga or Kundalini Yoga

Tai Chi led by Monte

Mindfulness Practical Application

Deep Relaxation

Musical Mindfulness/Kirtan by Lotus Head

Add ons at additional cost -- preparation, organization and travel to anywhere in the world!
To get Lotus Head at your next event, fill out this form!